The inaugural World Corporate Cup of Triathlon has been hailed as a very successful event by competitors, spectators and partners alike.
A partnership between the Corporate Games, UK Triathlon and Stoke On Trent City Council saw competitors from across the country compete in a range of events from Standard Olympic Distance Triathlon to Super Sprint.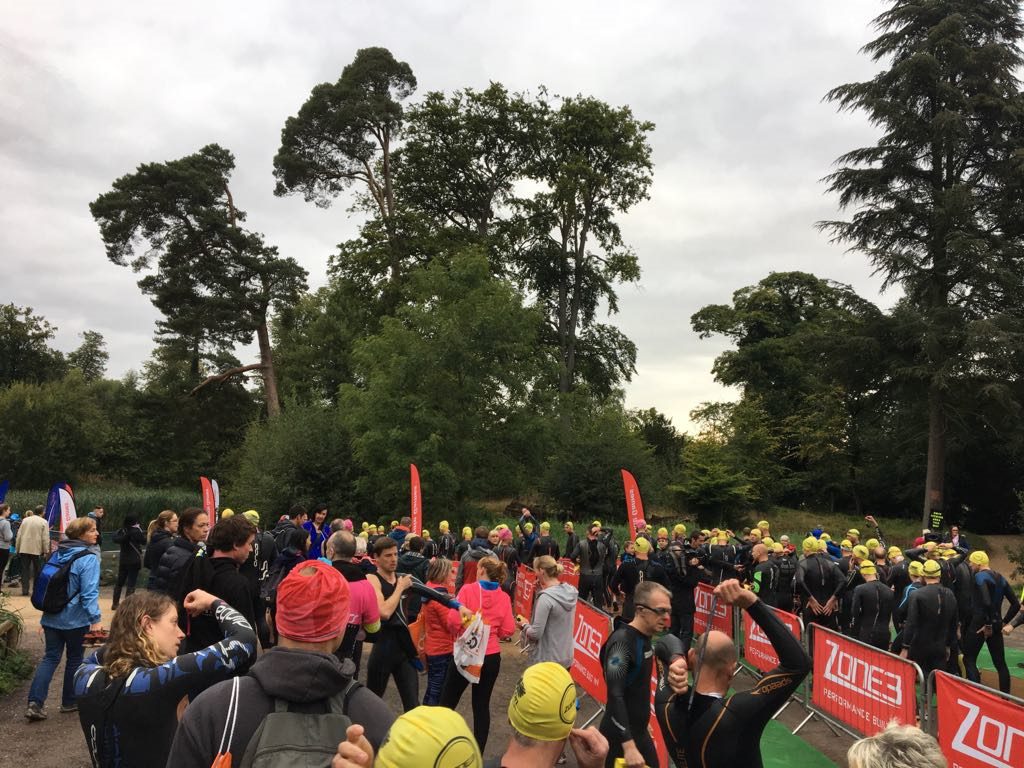 Trentham Gardens is a beautiful setting for the event, with competitors swimming in Trentham Lake, Cycling on the open roads of Staffordshire and then running around Trentham and the impressive Italian Gardens.
Triathlons of any distance are a tough challenge but competitors of all ages and abilities gave it their best and the spirit and camaraderie on display was a pleasure to behold.  There wasn't much sun around over the weekend but the competitors that entered were all beaming afterwards.
Winners came from a variety of organisations with Nationwide Building Society crowned overall Corporate Cup Team winners with 23 points.  Dean West of BNY Mellon was the fastest entrant in the Men's Olympic distance.  He swam 1500m, cycled 40K and ran 10k in an incredible time of 2 hrs 12 seconds.  Dean picked up one of the fabulous awards sponsored and crafted by a powerful local business with international reach – Wade Ceramics.  Dean is pictured below with representatives of other winners from Nationwide, Faccenda, APC Overnight and Maythorn Construction.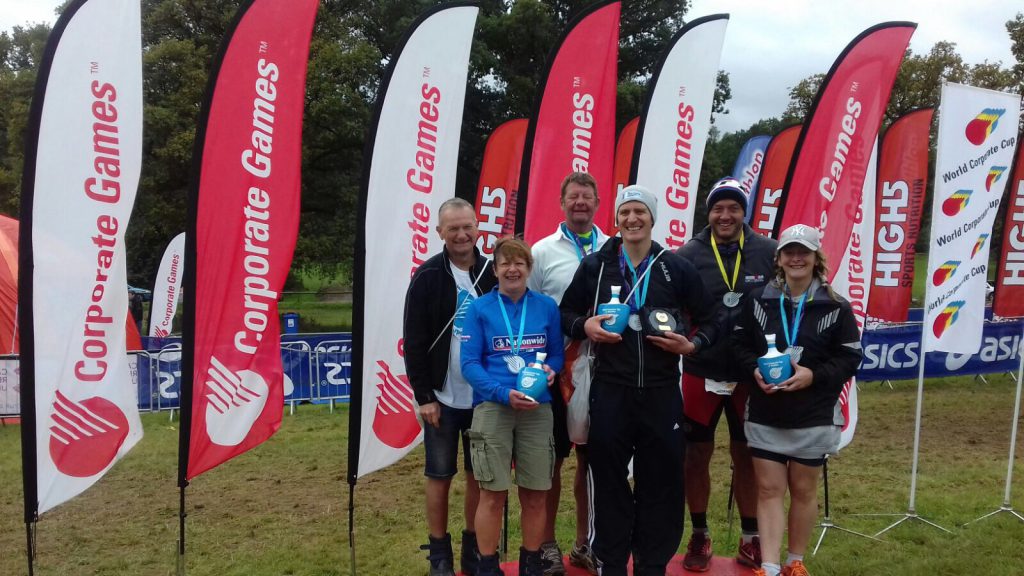 A selection of Winners on the Podium
Ben Sedgemore, Games Director and Corporate Games lead on the Triathlon said "this has been a great experience for our team and for all of our competitors whether they won medals or awards or not.  By just competing they are all winners in my book.  Stoke-City Council  worked hard to ensure that the competitors had the best venue experience possible and UK Triathlon have decades of experience in this area.  Together we enjoyed a great partnership and the end result is something that everyone can be proud of.  Thank you to all of the participants, sponsors, coordinators, marshals, helpers and everyone involved. Furthermore, the great awards sponsored by Wade Ceramics were outstanding and will be treasured by the companies and their respective organisations".
The Official Photos can be accessed by this link.
Plus coverage of the race should be shown on Channel 4 on the 1st October so tune in to see what it was all about.
This weekend will also see the exciting World Corporate Cup of Dragonboat Racing  taking place at Trentham Gardens.  The event was tremendous last year and everyone will be hoping for the same experience.
The World Corporate Cup Of Dragonboat Racing  at Trentham Gardens, Stoke On Trent.
Both of these events are seen as pre-cursors to Europe's largest multi-sport festival for business, the UK Corporate Games which will be staged at a selection of the best venues across Stoke-on-Trent and Staffordshire from the 21st-24th June 2018.  For more information see corporate-games.com.