The Launch of the UK Corporate Games Stoke on Trent and Staffordshire was staged last night at the impressive Keele Hall at Keele University.  The Lord Mayor of Stoke On Trent, senior civic representatives, VIP's, sporting ambassadors and business people from a host of organisations travelled from near and far to attend the enjoyable evening in beautiful surroundings.
Guests heard that the UK Corporate Games,  will take place from 21 to 24 June 2018 and that it is expected to attract thousands of amateur athletes from a range of UK companies of all types, boosting the local economy while showcasing the area's growing economic opportunities.  As a result, businesses in Staffordshire and Stoke-on-Trent are set to benefit, as Europe's largest multisport festival for business returns to the region for a second time.
This year's Games was held in Nottingham in July and it attracted over 5,000 people generating an estimated £3.8m for the local economy (click here to the see coverage in the Notts Post).
The Games next year will feature 23 sports on the packed weekend programme, as well as a host of celebrations including a Grand Parade of Athletes, the Great Games Party and the SuperCentre Celebration.
Sports will include badminton, netball, football, go Karting, golf, volleyball, cricket, hockey, tennis, basketball, running and dragon boat racing. Venues include Keele and Staffordshire Universities, Fenton Manor Sports Centre, Newcastle College and Trentham Gardens and a host of other selected venues.
The joint Staffordshire and Stoke-on-Trent approach was selected by the Games organisers ahead of several other bids following the success of the Games staged in the area in 2015.
Mark Ormerod, Deputy Vice Chancellor and Provost of Keele University, welcomed people to Keele Hall and stressed how proud the University was to be involved in the partnership group supporting the Games.  Mark kindly introduced Louisa Preston of BBC London News who was the guest MC for the evening.  Stoke, Staffordshire and Newcastle Coucillors and executives were in attendance and they all threw their collective weight behind the event.
Helen Riley, Deputy Chief Executive at Staffordshire County Council said: "The Games will give thousands of people from top UK companies the chance to visit and see the huge economic opportunities available in the area.  We would encourage local businesses to sign up to participate so that they can all take advantage of the benefits on offer".
Sharon Taaffe, Assistant Director of Health Improvement at Stoke On Trent City Council echoed Helen's words and also confirmed that there is a determination to see the local community heavily involved in the Games so that everyone enjoys the festival.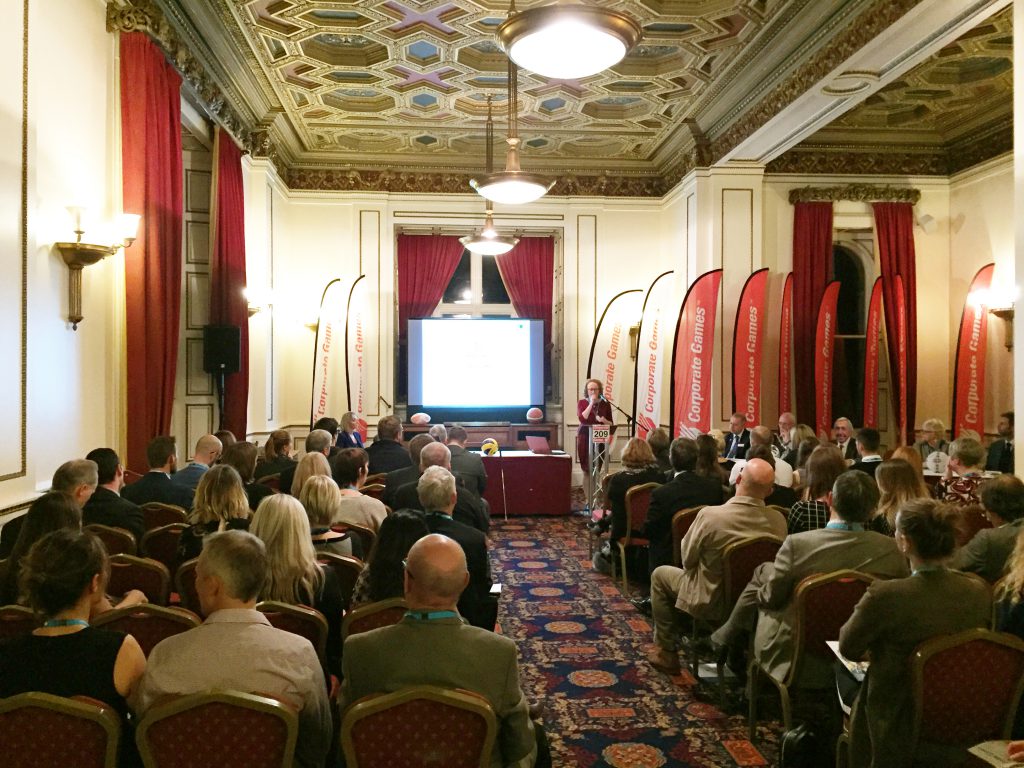 Sharon Taaffe of Stoke City Council addresses the packed crowd
Games Director for the UK Corporate Games, Ben Sedgemore said: The Games has been staged annually in the UK since 1992 but our experience in 2015 in the region was certainly one of the best.  Stoke-On-Trent and Staffordshire is blessed with some fantastic facilities and a great central location and everyone enjoyed their involvement in the Games.  We had some great interest from other strong destinations for 2018 but the positive experience enjoyed by the competing organisations and ourselves last time ensured we were very keen to return.  We can't wait now.
Another terrific supporter in attendance was England Legend Gordon Banks OBE who is The Games Patron.  Gordon was willing to have photos taken with representatives from all of the companies and institutions in attendance.  Gordon said, "The Corporate Games will attract thousands of amateur sportsmen and women from the UK's biggest companies to Stoke-on-Trent,  Newcastle-under-Lyme and Staffordshire over the next 18 months. This is a fantastic opportunity to showcase not only the region's economic opportunities but also our fantastic sporting facilities.
"We can be truly proud of venues like Newcastle College, Keele and Staffordshire Universities, Fenton Manor and Trentham Gardens. I would encourage business of all size and kind to get behind these events and make the most of the tremendous opportunities that they will create.  I know you will all enjoy them too!"  
Right to Left- the panel included – Mark Ormerod – Deputy Vice Chancellor and Provost of Keele University, The Lord Mayor of Stoke on Trent – Councillor Ross Irving, Games Patron – Gordon Banks OBE, Sharon Taaffe – Assistant Director of Health Improvement at Stoke On Trent City Council, Helen Riley – Deputy Chief Executive at Staffordshire County Council, Ben Sedgemore – Games Director and Jenny Booth- Games Ambassador and Paralympian medalist.
In addition to the positive vibes from the politicians and dignitaries the Games is already proving to be popular with organisations from across the UK.
Air Products who have offices in Crewe and Cannock as well as in Surrey and London have already confirmed their place at the Games.  Team Leader , Pascal Van Loon said: "Air Products is looking forward to the UK Corporate Games 2018 and have already committed to entering a team.  Year-on-year I see the benefits that such an event brings, not just from an improved employee fitness level, but also from participation by our staff from different sites and offices across the UK.  The weekend creates a great sense of camaraderie and the competition drives individuals and teams to achieve more.  As team manager I am happy that Air Products can continue its longstanding 22 year tradition of being part of the Worldwide Corporate Games Community."
Representatives from Air Products at the UK Corporate Games Nottingham 2017 Grand Parade Of Participants.
Another positive response has come from 2018 Games Sponsors Wade Ceramics.
Paul Farmer OBE, the Managing Director of Wade Ceramics said, "as a local business with international connections, we will be supporting the Games as a key partner. Wade are not only showing that they are truly committed to supporting the health and wellbeing of their employees but also really helping the city to prosper and bring investment in through the visitor economy and profiling the area.
Businesses interested in taking part that did not make the launch can request a presentation at their workplace. To have a conversation about the Games call 0044 (0) 1733 380 888 or visit corporate-games.com